So on October 15, 2010 my friend Colleen came to pick me up. She had called me several times before about the birthday party I was supposed to attend for my boyfriend at the time's uncle birthday. I really want to downplay what I was going to wear. However Marques had already gotten me a dress that we picked out a few weeks ago and with the dress I figured let me get to the salon and get my hair done.She took me to one of her girls and she did my hair. I got my nails done and proceeded with my normal day.
On Saturday October 16, 2010 I drove to Philly but I had to make a stop to pick Marques up from the train station. He had went on a business trip. We got to the house I talked with his mom and then we went to the mall because he said he had to get a gift for his uncle. We left the mall with no gift. He said he couldn't find anything. We managed to eat and then back home to get dressed. On the way there he says that one of his cousins might try to be late and he had to call them. He pulled over on the side of the road and asked if the cousin had arrived and then he had to fix his clothes. In my normal what are you doing, I asked him if he could wait until we got to our destination to fix his clothes.
Well we pull up to Maggiano's and I ran into a long time friend. I wasn't paying any attention until we walked into the room and I saw his family than I looked over and saw my college girlfriends sitting at the table and I knew this couldn't have been for his uncle birthday. I looked back and saw my parents and family and best friend sitting at a table and I knew immediately but I didn't want to play myself.
He came in the room turned on the most beautiful photo spread and video and asked for my hand in marriage. I was floored. I couldn't believe it. All the things I had in my mind I could barely say much but yes!! His family was clowning him I do remember that asking what would he have done if I said no, but Marques knew I wouldn't have said no.
The back story is that my college girlfriends had arrived Friday and were staying at the house. When I got there they had left and basically it was arranged for them to get dressed and not be in the house so I wouldn't see them. But we had crossed paths and I had no clue. He had my parents and family there and the only times I remember them interacting was for the sake of our daughter. It was a really beautiful time. Oh and there was no business trip. It was a way to divert me from going to house.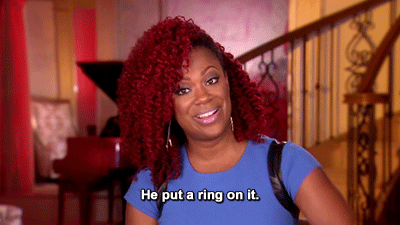 He put a lot of effort into this day. I totally appreciated it all. The other part to the proposal is the ring. The ring was incredibly beautiful. When he and I were dating back in the day, I would get my Essence magazines and read them. In the magazine were always Tacori ring advertisements. I fell in love with them. They are super expensive sets. Trust me. However he would ask me questions as to why I liked those rings. My answer is simple, I loved how the band had diamonds all around it. I like the princess cut and halo rings. I liked how it looked different from other rings to me. He never forgot that conversation. I later found out not how much he spent but trust me he wanted my social security number like Martin did Pam in the Martin comedy series but the effort. It was the fact that he went and literally put this ring together. He got the center stone from one place, got a setting and had it put together to my specifications like a Tacori ring. So for that this ring means the world to me because of him listening to me, and knowing my style. He could have gotten any ring and I would have loved it but the ring was made for me and it makes it that much more special. Oh and my favorite food is Italian. My favorite color is red he incorporated it all into the day. We went to Maggiano's at our first anniversary and the flood of emotions still gets me. Marques has always been great with large gestures, the proposal was an extension of that. To this day we celebrate Sweetest Day even when others don't. It's our own special Valentine's Day.
I asked him why he proposed, and it was simple, he loved me and it was time. Also he told me that I was by his side throughout the years he wanted to give me the ring that I loved and he did!!!
Shout out to all of our family and friends who helped in the background to pull that day off!!